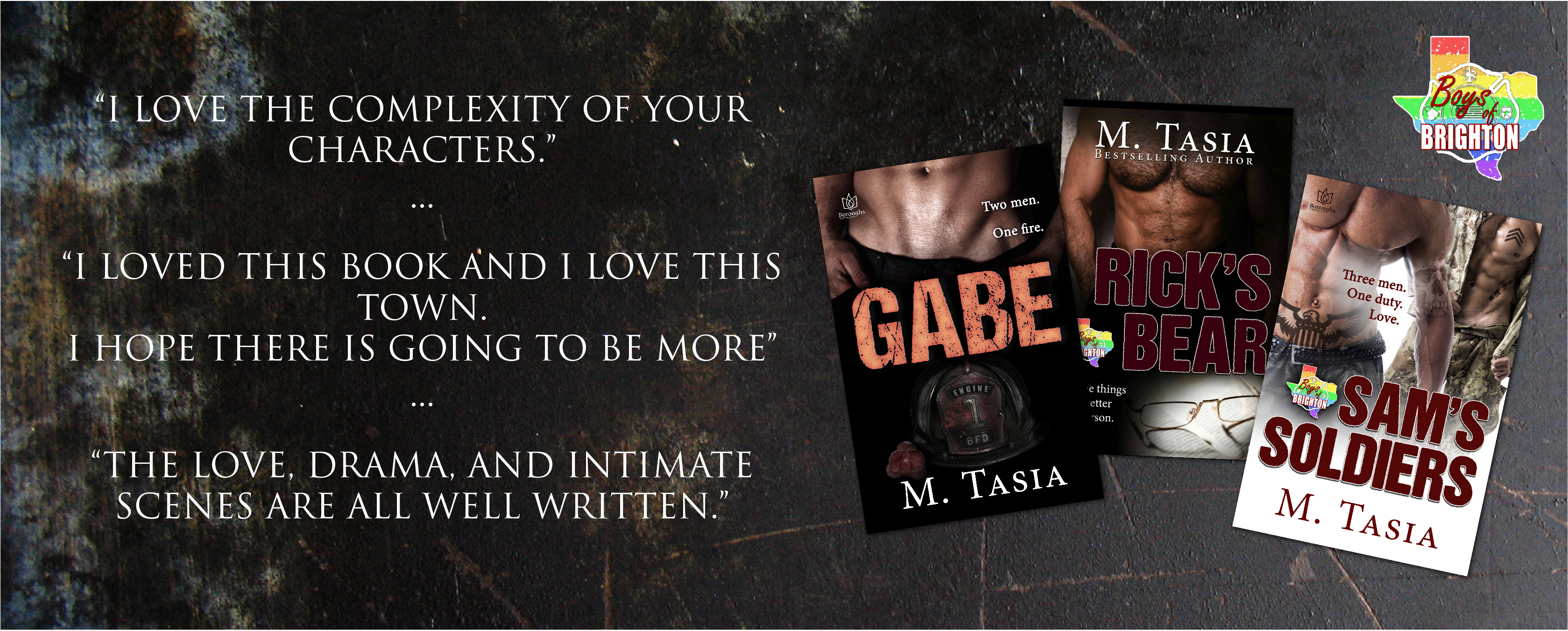 Welcome back to Brighton, Texas. Where any man can find home.
Gabe Mason is a fifth-generation firefighter unable to move forward with his life after suffering a devastating betrayal two years earlier. Graphic designer, Johnny Jeffrey, relocated to the town of Brighton to flee the persecution of his father, and begin over on his own terms. The two meet amidst fire and smoke and the connection is palpable, undeniable, and hot. Healing from the past is within reach of both men and yet, the blaze that brought them together is only the beginning of their trials
It took a fire to bring Gabe and Johnny together. Not family, not faith, not a lunatic's rage, nothing will tear them apart.
So, I absolutely loved it! Johnny is such a loveable character and Gabe…wow! So hot! The perfect amount of alpha. Characterization was good, especially with Gabe and his family. Johnny's background sets him up to be the perfect man for Gabe. They actually fit each other perfectly. The plot was fantastic! Just enough action and romance to balance each other nicely. Really enjoyed this! Kristina Hernandez
What a crazy family with lots of great characters! Open to more books about other characters. Nice quick read with a bit of mystery. Paula White
Good book. Characters are awesome whether they're adorable and sweet, or evil and twisted. Good, well-timed plot. Andrea Robinson
Welcome back to Brighton, Texas. Where any man can find home.
THE POWER OF THREE

As an emergency room nurse at Brighton General, Samuel Mason spends most of his days caring for the sick and injured, and his nights alone. Until now.
Jack "Spider" Forrester and Dante Snow have arrived. Retired from the Army, they provide protection to those in need. They've come to Brighton to guard Sam's cousin from a dire threat, but it's Sam's world they turn inside out. Jack wears his heart on his sleeve but is no pushover, and Dante is scarred from a past he'd sooner forget. They two are partners in all things, from the bedroom to the office to the street, and they want Sam to join them…for as long as they're in town. But there is danger ahead, and not just from the type of men these skilled, muscled heroes have sworn to take down. The danger of falling in love.
I love the complexity of your characters. For example, how Spider is a strong, intimidating soldier, but he has a big heart and submits to Dante. And how Dante is the most dominant of the three, but just as in real life, he's plagued with fear and insecurity. I think these three characters came together to form a complex but well-balanced triad, with all three being strong males who can love and depend upon one another without diminishing the other's strength and personality. Virginia Cantrell
This was one of the best written books. I really couldn't find anything wrong. I loved this book and I love this town. I hope there is going to be more, because I think you're a great writer. Melissa L
The relationship between the three was believable with the two being alpha and over protective with Sam. Sam's reaction to being left came across as heart breaking and I liked the side story of Miguel and how this was dealt with. Paula White
These three men together are enough to set anyone's heart beating into overdrive. When they are apart, they completely break your heart but when together they show what true love is all about.
It was such an amazing read that was filled with lust, love, crazy hot sex, danger, action, and so much more. This is he first book I have read in this series but I will definitely be reading more in the future. Definitely a book that I recommend for others.
5 Stars
Natosha Wilson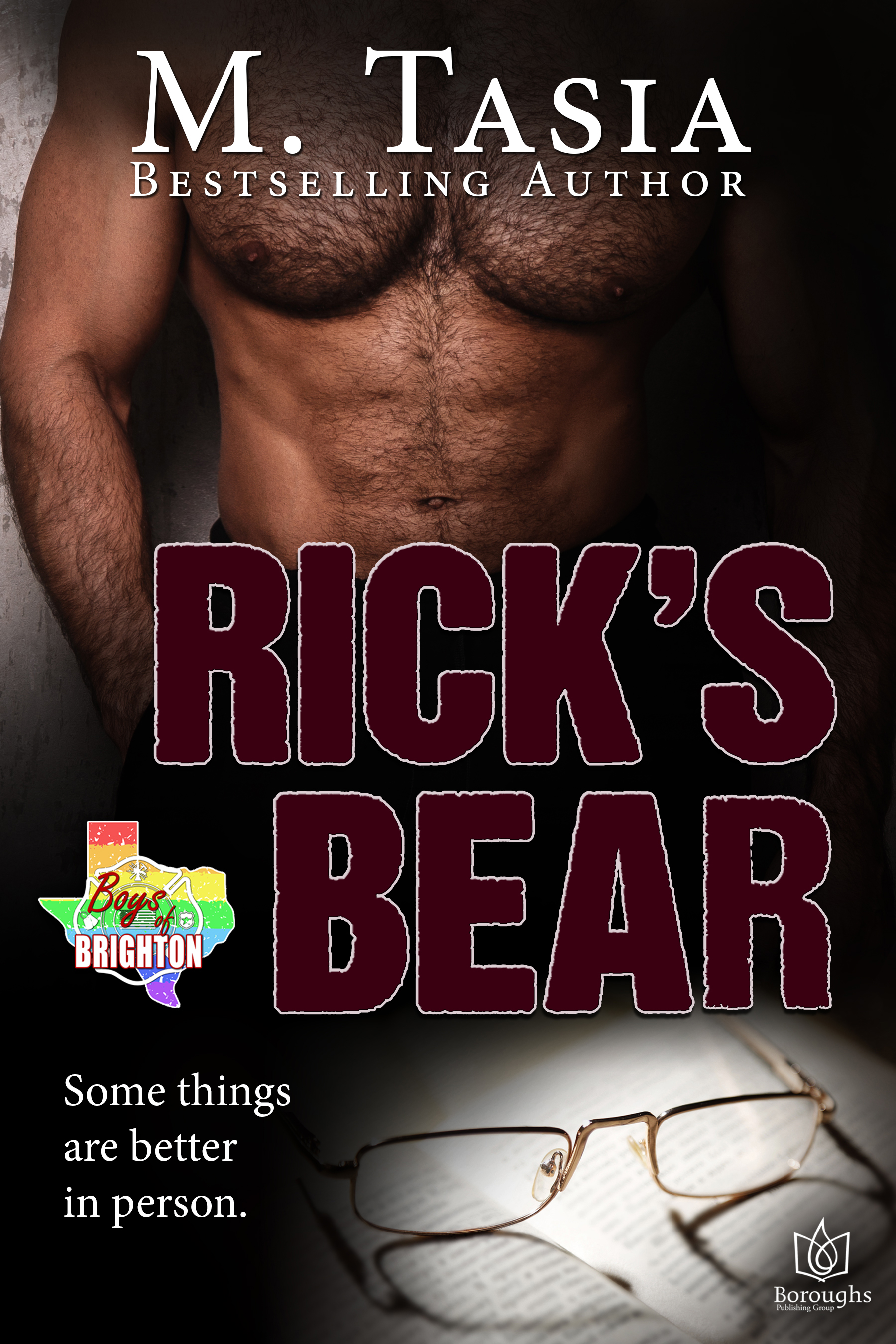 Available Now!
Clem owns the only diner in Brighton and prefers to be left alone. After growing up around then barely escaping one of the toughest motorcycle gangs in of Chicago, Clem just wants peace. Rick has always lived on the outskirts of society, finding it far safer and more comfortable to stay in his library surrounded by the books he loves. These two people who seem to be complete opposites find they have more in common than either of them realize. The tattooed, bear of a biker and the quiet, unassuming librarian show the residents of Brighton that an old bear can learn a few new tricks from the local bookworm.
So, this book is amazing. The dynamic between Bear and Rick is just perfection. I loved seeing Rick come out of his shell, especially as someone who suffers from anxiety! I can't wait to see where the next book goes! But what a fantastic love story. I really liked that we got to see it fully develop  before the dramatic scenes! 
Kristina Hernandez
I think your writing just gets better and better.
As for the plot, the story was solid, fast-paced, and the characters were well developed
Virginia Cantrell
I spent the evening with two lovely characters as they were falling in love. Rick and Bear are both sympathetic and believable characters who come to life on the pages. Although the characters are gay, the story transcends their sexual preference and is a romance any person of any gender or orientation can identify with. Good going! I look forward to more in this series.
This is the first I've read by this author. The author set a good stage for the environment and people of Brighton where these characters live and they were easily pictured as they came and went through the lives of Rick and Bear.
I was able to get inside the minds of both Rick and Bear and understand why they felt and reacted as they did. The emotional and psychological growth was lovely to watch.
It was so sweet to see Bear tiptoe his way into Rick's life and heart. To see this big, burly man ease his way around the object of his affection in an effort to gain his trust and love was beautiful to experience. He is patient, protective and sexy.
Seeing Rick respond to these gestures was just as beautiful. The author gave us insight into his social anxiety issues and I cringed and cheered right along with him. He accepted what Bear was offering and even though it was a struggle at times, gave back what he was given.
I enjoyed this book. I do need to go back and read the others because the hints of back story has me very curious about the other people in this town.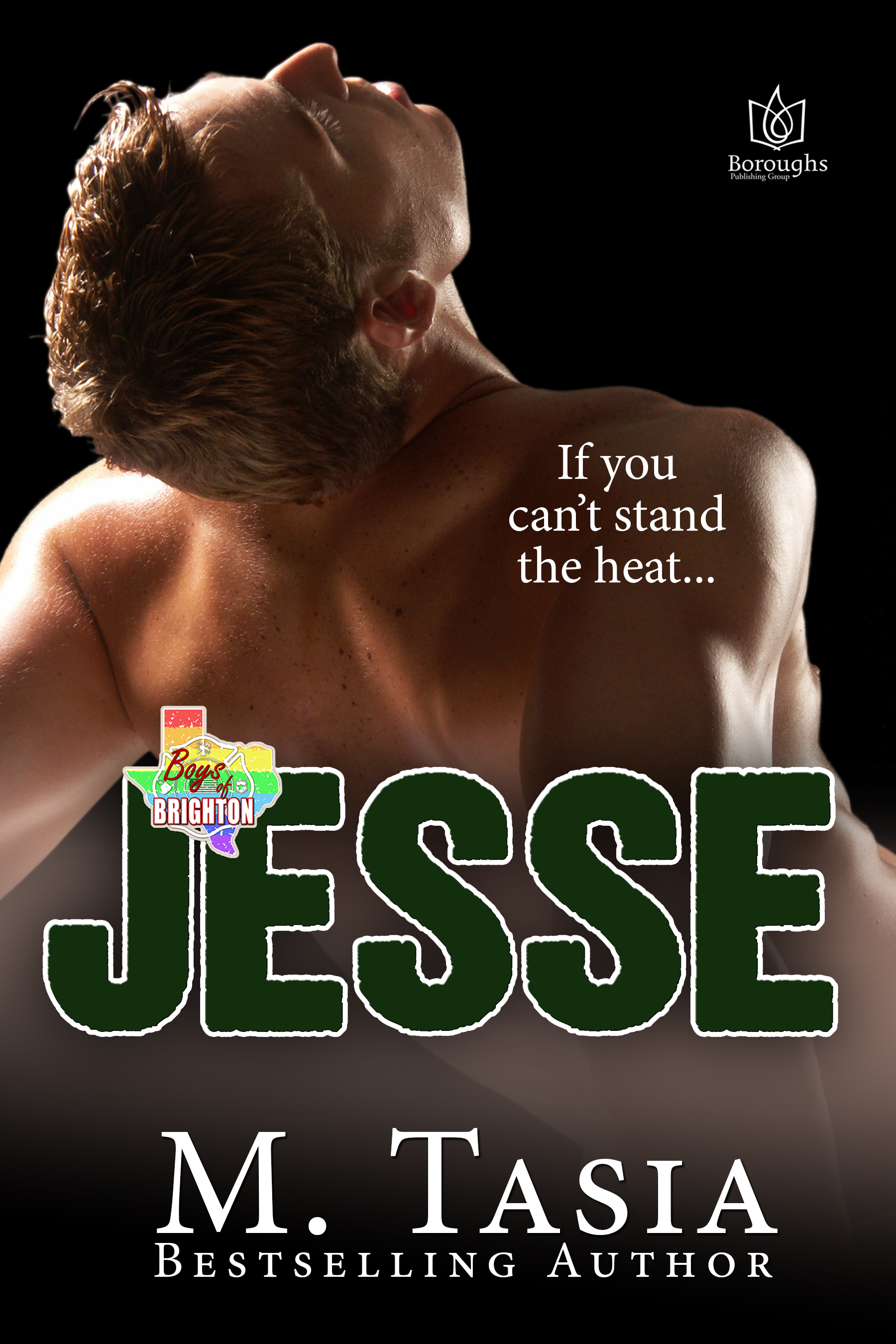 Available Now!
Royce Evans has worked as a paramedic in Brighton since graduating college, Over the last three years he's been living a shell of a life since his husband's death in an automobile accident. Jesse Tribalt is running from his homophobic family. Jesse had thought he'd finally found a place to rebuild and settle until the day his cousin walked into Brighton demanding Jesse return home. Can these two lost souls come together and protect their newfound love or will the increased pressure from Jesse's family and Royce's own fear of opening himself up to potential heartbreak rip them apart.
I have been waiting impatiently for their story. I was not disappointed! Wow what a beautiful love story between the two.
Miachelle Ferguson
I love all the stories about those boys from Brighton. And just wondering how many more are there. I just can't get enough!
Barbara L
I have been. Waiting patiently for book 4 Jesse and Royce's story to be available and I was not disappointed at all. I fell in love with the boys from books 1-3 all over again and can not wait to see where the next 2 potential story lines go.
Jesse and Royce's story is one of true love. It has it heartbreaking moments when you just want to hug them both and moments when you are shaking your head.
M. Tasia gets it right yet again and can not wait for the next one.
Ainslie Gear
Read or you are missing out on a amazing and a favorite series of mine!!!! I give this book no this series 5 *****.
Elizabeth