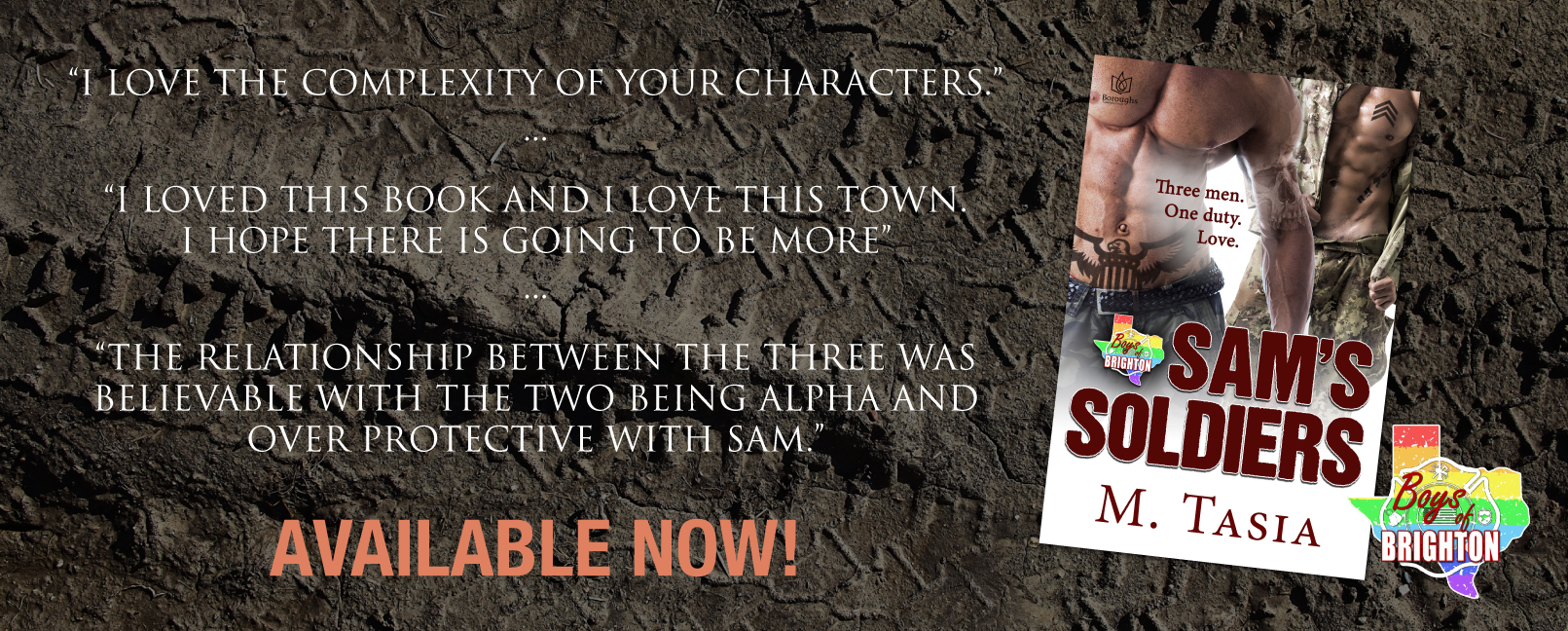 Welcome back to Brighton, Texas. Where any man can find home.
THE POWER OF THREE

As an emergency room nurse at Brighton General, Samuel Mason spends most of his days caring for the sick and injured, and his nights alone. Until now.
Jack "Spider" Forrester and Dante Snow have arrived. Retired from the Army, they provide protection to those in need. They've come to Brighton to guard Sam's cousin from a dire threat, but it's Sam's world they turn inside out. Jack wears his heart on his sleeve but is no pushover, and Dante is scarred from a past he'd sooner forget. They two are partners in all things, from the bedroom to the office to the street, and they want Sam to join them…for as long as they're in town. But there is danger ahead, and not just from the type of men these skilled, muscled heroes have sworn to take down. The danger of falling in love.
Excerpt From Sam's Soldiers
Dante got off the phone and pulled his anxious lover into a tight embrace. "They found Sam. He was at home, just not answering his phone."
"Is he okay?" Spider pulled back to look Dante in the eyes.
"From what Gabe said, Sam was a bit intoxicated when they found him." Dante tried to pull off nonchalance but knew he was failing miserably.
"Drunk? But Sam barely drinks. Even when we go out, he usually stops at one beer." Spider was now acting more anxious than before they knew Sam was safe, and Dante wasn't far behind, but they had to keep his fear under wraps and move forward.
"Well, apparently Sam and a bottle of whiskey got well acquainted. He'll have one hell of a hangover tomorrow, but he's fine." Dante released Spider and stood staring out of their hotel window at the skyline of Nashville, Tennessee, the location of their latest client.
Dante had missed Sam the minute he stepped out of the door early that morning. He had to push himself to continue walking away. His heart kept pulling him back to the man they'd left sleeping in bed, the man who had grown to mean more to Dante than he'd ever expected, but his head pushed him onward. Leaving was the right thing to do. Still, Dante had picked up his cell phone countless times, waiting for Sam to call; it was maddening.
I love the complexity of your characters. For example, how Spider is a strong, intimidating soldier, but he has a big heart and submits to Dante. And how Dante is the most dominant of the three, but just as in real life, he's plagued with fear and insecurity. I think these three characters came together to form a complex but well-balanced triad, with all three being strong males who can love and depend upon one another without diminishing the other's strength and personality. Virginia Cantrell
This was one of the best written books. I really couldn't find anything wrong. I loved this book and I love this town. I hope there is going to be more, because I think you're a great writer. Melissa L
The relationship between the three was believable with the two being alpha and over protective with Sam. Sam's reaction to being left came across as heart breaking and I liked the side story of Miguel and how this was dealt with. Paula White
These three men together are enough to set anyone's heart beating into overdrive. When they are apart, they completely break your heart but when together they show what true love is all about.
It was such an amazing read that was filled with lust, love, crazy hot sex, danger, action, and so much more. This is he first book I have read in this series but I will definitely be reading more in the future. Definitely a book that I recommend for others.
5 Stars
Natosha Wilson